Okay it almost pains me to have to write reviews on body slimming compression products during summer. They're usually hot, sticky, hard to get into and don't even get me started on the getting out process. BUT I was happy to write about it when I tried on the CHEATA compression garments.  They were comfortable, breathable and slimming and coming from a woman who is a little top heavy the compression TROTTER BRA was the perfect solution. The construction smoothed out my lumps and gave me the support I needed without limiting my range of movement or in my case wearing two bras. Next let's fix the bottom half, the slimming COOL CAT UNDER TIGHT held everything together and admittedly my posture improved as a result. I felt better in the saddle, check.
Next we needed a true test.  A tape measure test. Our Lifestyle Editor Maddy volunteered.  The before and afters in the office were a hoot. Let's just say it was very uplifting and we both laughed like never before.  Skin colored compression gear is not only shocking but quite amusing.  The results however were nothing to laugh at!  Inches dissolved.
Let's get started.
BEFORE
Maddy wears her regular gear of Ariat tri-factor top and Dublin riding tight. I pulled out the measuring tape. We must be thorough.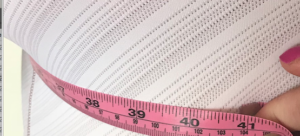 AFTER
The lumps smoothed out and all of sudden her breeches were too big. INCHES disappeared and we were both blown away. The difference was immediately noticeable in the before and after images. Now, I was really excited to ride in mine again because if I looked half as good as Maddy's transformation I was killing it in the arena earlier.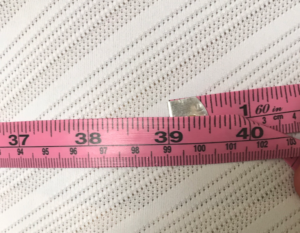 GET YOUR GEAR
TIGHTS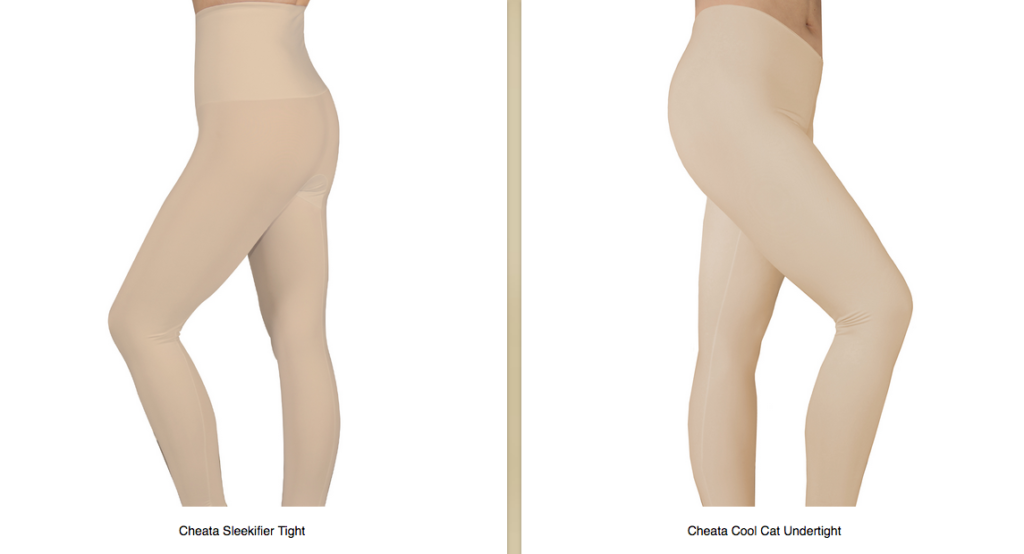 Effective compression undertights for anything "unforgiving" you may be wearing such as breeches, riding tights, white jeans or pants. Picky about your rise? No problem! Featuring a customizable rise that you simply cut to where you want it with no fraying. Look and feel stronger, sleeker, and slimmer!
$72.50
BENEFITS:
• Medical grade comprehensive compression
• Advanced blood circulation for faster warm up time, greater muscle endurance and a quicker recovery period
• Body firming, with no range of motion inhibition
• No sagging or breaking down from extended or repeated wear
• No burning, pinching, or itching sensation from wear
• Raw edges for a lay flat seamless finish
• Ultra moisture wicking and heat dispersing
• Featuring STRETX (trademarked) performance compression technology
• Far more comfortable than traditional shaperwear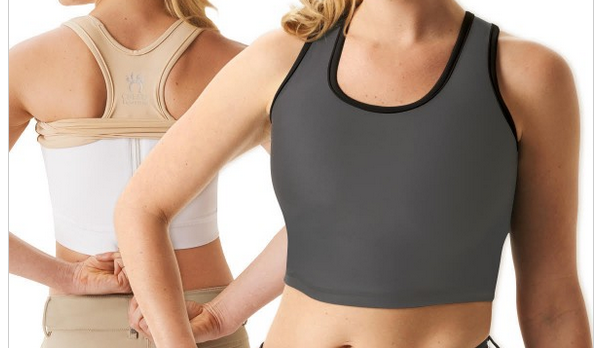 TROTTER BRA
Cheata's strongest, most stable, and minimizing sports compression bra structure. Worn by top equestrians, competitive athletes, law enforcement, military, competitive tactical, and first responders. Rear downward directional zipper. Putting on this product correctly is imperative for the effectiveness of this product (and it is different from what you have done in the past) – watch our "Proper Fit and Adjustment" video on the Cheata home page for a quick tutorial.
$69.95
BENEFITS:
• The stability of layering 2-3 sport bras
• Eliminates neck pulling and shoulder digging
• Greatly improved posture
• Dramatically improves and stabilizes the fit of show jackets, body armor, and uniforms
• Significant thoracic back support
• No chaffing, rubbing, or shifting
• No stretching out/breaking down from long term wear or repeated wear
• Breasts look and feel smaller and lighter for intense activity
• Ultra moisture wicking and heat dispersing
• Breasts no longer impede proper form (i.e. golf swing, tennis swing, tactical maneuvering)
• Eliminates the appearance of back fat
• Featuring STRETX (trademarked) performance compression technology